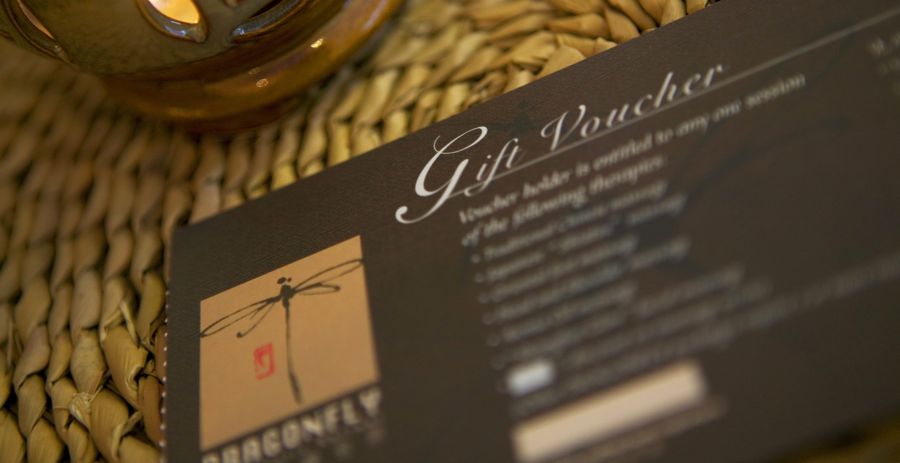 Massage Gift Certificates
If you are a frequent visitor (and our most committed customers may come several times in the same day) then why not enjoy yourself more by relaxing your pocketbook as well?

Features & Benefits
Face value equivalent to a 1 hour standard massage (Chinese Massage, Japanese Shiatsu, Oriental Foot Massage, Head & Shoulder Massage) @ 188.00 RMB
Purchase 10 or more Gift Certificates and save 10% off the face value
May be combined together or topped up with cash for higher value services.


When to consider a Dragonfly Gift Certificates
Perfect as a Gift for a friend or loved one (and can be stuffed into a "Hongbao") – ideal for wedding gifts, anniversary, birthdays, promotions, graduation gifts...
Short-stay visitors (less than a year)
Incentive bonus to company staff, key suppliers or customers
Terms & Conditions
Dragonfly Gift Certificates are issued subject to the following terms and conditions:
Gift Certificates expire 1 year from date of issue
May not be combined with other discounts or special offers
Tampering with Gift Certificates is not allowed
Lost or Stolen Gift Certificates will not be replaced
Gift Certificates should be presented at time of checkin in the retreat.
No cash value and may not be exchanged for unauthorized services or merchandise
More information is available in our participating retreats.